Valve Packing Machine/Scale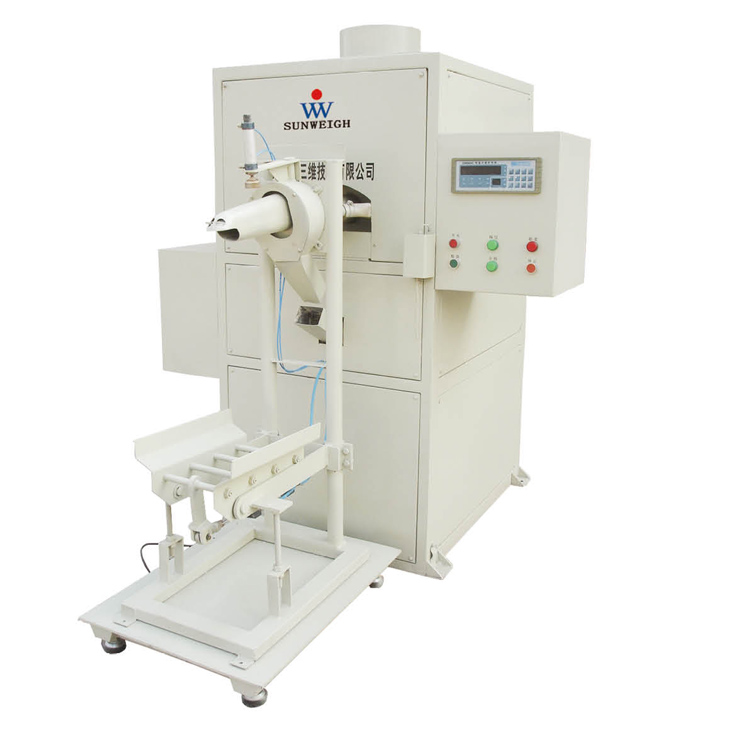 Equipment Introduction
Air delivery valve packing machine is suitable for packing powder materials, granular materials and powder and granular mixed materials. The equipment has fast packing speed and high precision. Main packaging materials includes ,such as dry powder mortar, barite, quartz sand, river sand, activated carbon and refractory materials.
Working Principle:
Air delivery valve packaging machine is a kind of equipment that uses low pressure air generate kinetic energy to deliver material packaging. The material enters the sealed container of the packaging machine through the finished product bin, and the low-pressure air flow generated by the roots blower causes the material in the sealed container of the packaging machine to let the materials boil and fluidize, so that the material will be transported to the special valve pocket along with the conveying pipeline; meanwhile, the dust removal system works, and dust generated in the packaging process is continuously introduced into the bag dust remover to carry out dust removal operation, thus effectively ensuring the cleanliness of the working environment; when the weight in the valve pocket reaches the preset weight, the packaging machine stops feeding, and then the pneumatic device withdraws the packaging bag onto the conveyor to complete one-bag packaging.
Functional characteristics:
The equipment adopts air feeding, and is suitable for powder mixed materials and small granular materials, micro powder, granules and ultra-fine powder with strong air affinity, and materials that are easy to wear and tear during spiral feeding, such as dry powder mortar, quartz sand, carbon black, titanium dioxide, refractory materials, etc.
The equipment adopts electromechanical integration design, imported components and high-resolution weighing sensors ensure the reliability of the equipment, and the design of air flow conveying completely subverts the previous spiral feeding mode, thus greatly improving the packaging efficiency.
Technical Parameter:
Model:DCS-QF-25/50
Weighing Scope:20-50 Kg
Scale Interval:10g
Weighing Accuracy:0.5%F S
Weighing Speed:400-600 bag/hour
Air Consumption:1m³/100m³
Power Supply:AV380V 40HZ
Power:7.5KW
Air Pressure:0.05Mpa
Packing Bag Type: Valve opening Bag
【Related Product】
关键字
【Relevant Articles】
关键字