Zaozhuang Sunweigh polyvinyl chloride resin automatic packaging machine is your good choice
Polyvinyl chloride is one of the five general plastics (PE polyethylene, PP polypropylene, PVC polyvinyl chloride, PS polystyrene, ABS). Polyvinyl chloride (PVC) is characterized by abundant raw materials (petroleum, limestone, coke, salt and natural gas), mature manufacturing process, low price and wide use. PVC is a thermoplastic resin formed by the polymerization of vinyl chloride under the action of initiator, that is, the homopolymer of vinyl chloride. The homopolymer of vinyl chloride and the copolymer of vinyl chloride are collectively called vinyl chloride resin.
The main component of polyvinyl chloride resin is polyvinyl chloride, and other components are added to enhance its heat resistance, toughness, ductility and so on. It is a popular and widely used synthetic material in the world today. Its global use ranks second among all synthetic materials.
Zaozhuang three-dimensional independent research and development of PVC automatic packaging machine mainly consists of bagging machine, packaging machine, automatic folding machine, automatic sewing machine, finished product conveyor and other parts.
The automatic packaging machine of PVC can be set into the automatic packaging process of weighing, automatic bagging, automatic packaging, automatic folding and sealing, and operation output. The whole production process does not require manual input, thus saving the input of human, material and financial resources. Fundamentally improve the productivity of enterprises, the equipment is widely used in the packaging of particulate materials, powder materials and mixture materials in various industries.
Features of PVC resin automatic packaging machine:
1. Fully realize automatic bagging, opening, weighing, metering, moving import and sewing output;
2. Automatic sewing machine can sew packages automatically to realize the full automatic process of packaging.
3. Using PLG control and touch screen to design the operation.
4. The equipment is easy to operate and is very convenient for customers to use.
Technical parameters of PVC resin automatic packaging machine:
Packaging range: 20-50 kg bagged products;
Packaging materials: paper bags, woven bags (film) more than 80G;
Packing speed: 200-1200 packages per hour
Packaging Material: Particulate material, powder material, flake or mixed fertilizer can be packed.
Feeding mode: According to different materials, different feeding mode can be selected.
Compressed air: 0.4-0.8 MPa, maximum gas consumption 1.6 m³/min
Power supply: 6.2Kw AC380V + 10% 50Hz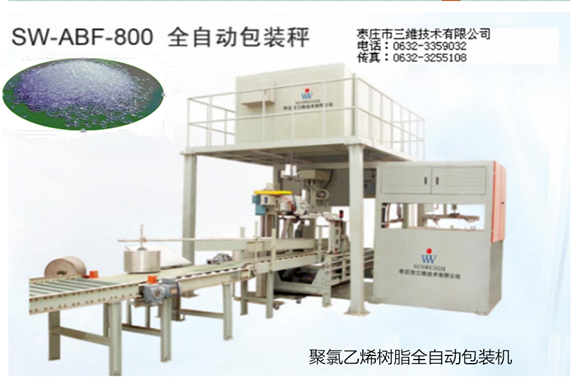 【Related Product】
全自动包装秤
【Relevant Articles】
全自动包装秤