Polyethylene Fully Automatic High Position Palletizer
Characteristics of polyethylene:
Polyethylene is a thermoplastic resin prepared by polymerization of ethylene. In industry, copolymers of ethylene and a small amount of alpha-olefins are also included. Polyethylene is odorless, non-toxic, waxy-like, with excellent low temperature resistance, good chemical stability and resistance to most acid-base corrosion. It is insoluble in general solvents at room temperature and has low water absorption and excellent electrical insulation. Polyethylene has general mechanical properties, low tensile strength, poor creep resistance and good impact resistance. Polyethylene can be processed by blow moulding, extrusion, injection moulding and other methods. It is widely used in the manufacture of thin films, hollow products, fibers and daily necessities. Production areas, such as Dow Chemistry, Eastman, Asahi Chemicals, Atofena, Chevron-Phillips and other companies.
Polyethylene can be moulded by extrusion, injection, moulding, blow moulding and melt spinning. It is widely used in industry, agriculture, packaging and daily industry. It is widely used in China. Film is its biggest user, consuming about 77% of low density polyethylene and 18% of high density polyethylene. In addition, injection moulded products, wires and cables, hollow products and so on all occupy a large proportion in its consumption structure. Proportion plays an important role in the plastic industry.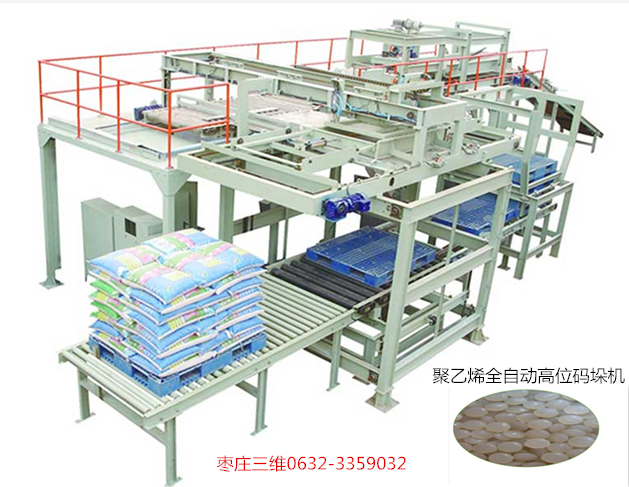 According to the characteristics of polyethylene packaging bags, Zaozhuang Sunweigh developed polyethylene fully automatic high-position palletizer, which can automatically palletize various kinds of polyethylene packaging bags. It has the characteristics of fast stacking speed, neat and beautiful palletizer, high level of automation, composed of leveling, posture adjustment, marshalling, hierarchical lifting and so on. The whole set of equipment is accurate, reliable and easy to maintain. The whole process does not require manual participation, which saves human costs and improves productivity.
The working principle of polyethylene fully automatic high-position palletizer:
The gradient conveyor transfers the qualified packing bags from the packing scale to buffer, rolls them by the bag press to make the shape of the bag flat, and then rotates the packing bags 90 or 180 degrees by the rotating bag posture adjusting device, so that the sewing mouth of the packing bags is all inside. Then the packaging bags are arranged in layers of 3+2 or 2+3 according to the set order by weaving and assembling device. After filling up the maximum 8 layers, the bags are stacked by the bag tray conveyor and finally transported by forklift truck.
Functional characteristics of polyethylene automatic high-position palletizer:
1. Wide range of applications, suitable for various packing bags stacking needs
2. High degree of automation (automatic flattening, automatic bagging, automatic hierarchical grouping)
3. All packing bags have inward-facing pockets with beautiful and tidy stacking patterns.
4. Compared with traditional manual palletizing, it is more efficient and saves manual investment.
5. Suitable for various materials, sizes and pallets
6. Reasonable structure and high stability of equipment
Technical parameters of polyethylene fully automatic high-position palletizer:
Product model: SW-ASH-1200
Palletizing capacity: 1200 bag/h
Palletizing Layer Number: 1-8 Layers
Power supply: AC380V 50Hz
Air pressure: 0.5-0.8 Mpa
Power: 16kw
Air consumption: 1.5m³/min
Scope of application: boxes, film bags, packaging bags (polypropylene, polyethylene woven bags, kraft paper bags)
The linkage between fully automatic high-position polyethylene palletizer and fully automatic packing machine can better reflect the highest value. More fully automatic high-position polyethylene palletizer and fully automatic packing machine call Zaozhuang Sunweigh for consultation:86- 0632-3359032.
【Related Product】
全自动包装秤
【Relevant Articles】
全自动包装秤