Straw Coal Fully Automatic Packaging Machine
The so-called straw coal mainly uses biomass raw materials such as plant straw, tree branches and bark to compress crop straw into rod, block or granular shaped fuel under certain temperature and pressure, so as to improve transport and storage capacity, improve the combustion performance of straw, improve utilization efficiency and expand the scope of application.
Principle: Straw coal is a new energy industry, which uses waste plants (corn straw, wheat straw, cotton straw, rice straw, rice husk, peanut husk, weed, leaves, branches, bark, sawdust sugar residue, edible fungus residue, etc.) as raw materials, and is formed by crushing, pressurizing and densifying. It satisfies the three major themes of China: environmental protection, agriculture, rural areas and energy security. It turns waste from crop straw and agricultural and forestry production into treasure and produces coal.
Characteristic:
1. Small size: equivalent to 1/20 of the same weight of straw.
2. High calorific value: the calorific value of straw coal is as high as 5000 calorific calorific calorific calorific calorific calorific calorific calorific value, burning time is long, firepower is fierce, flame is high, and operation time is saved.
3. Strong flammability.
4. No pollution, no "three wastes", safe operation, smokeless and tasteless combustion of finished products, no sulfur dioxide emissions, absolute environmental protection, benefit the country, the people and self-interest.
Purpose:
After straw moulding, the volume is reduced 6-8 times, the density is 1.1-1.4 tons/cubic meter, and the energy density is equivalent to medium bituminous coal. When used, the firepower is durable, the furnace temperature is high, and the combustion characteristics are obviously improved. It can replace wood and coal to provide cooking or heating energy for rural residents. It can also be used as boiler fuel in cities to replace natural gas and fuel.
Straw coal can be widely used in stoves, heating furnaces, hot water boilers, steam boilers, drying furnaces and biomass gasifiers. It is essential for civil cooking and biomass power generation. In a word, it can replace coal as fuel. But the price of straw coal is much lower than that of coal. The price of a ton of coal can buy a ton and a half of straw coal. The greatest advantage of straw coal is pollution-free, that is, clean, hygienic and low-carbon environmental protection. To meet the national requirements of low carbon and environmental protection, straw coal is a very important development direction of renewable energy in the future. With the lack of energy in the world, it is an energy product that can replace coal. The demand market of straw coal is immeasurable.
Market prospect
China is rich in biomass energy resources. The amount of crop straw, agricultural processing residues and forestry wood residues exceeds 750 million tons, which can be used as energy.
1. raw materials are everywhere: crop straw, leaves, withered branches, sawdust, weeds and other combustible biomass, can be used as raw materials for straw coal, everywhere, endless.
2. the cost of producing straw coal is low: the cost of raw materials is almost zero; the investment of straw coal production equipment is small, and the operation is simple. The idle labor force in rural areas can be employed through simple training, and the cost of manpower is very low.
3. The application scope of straw coal is broad: straw coal, granular straw coal, easy to use, suitable for unit families; good combustion effect, cooking, heating, bathing needs, especially the necessities of biomass power plants!
4. straw coal has both environmental benefits: turning straw waste into treasure not only increases farmers'income, but also protects the environment, solves the problems of straw treatment at all levels of government, and the national policy supports vigorously!
Political, economic significance and development prospects:
Biomass conversion carbonization technology is mainly used to solve the shortcomings of unstable combustion materials of various biological species in the world, and has been solved in many experiments; for inefficiency, low calorific value, too high moisture content, too high ash content, dispersal in the tide, and inappropriate transportation and storage, all of these are the research directions of Fengzhuo Company, which can completely solve these problems on this production line. Question. Compared with conventional biomass fuel utilization in large-scale coal-fired power plants, it has a higher blending rate, and can compete with coal price and performance. Coal will be phased out in 2014, becoming the most practical choice. It is of great significance in saving non-renewable resources and alleviating the shortage of power supply. The combined use of straw not only reduces the harm caused by straw burning to the environment, but also reduces greenhouse gas and harmful gas emissions, and will undoubtedly play an important role in promoting the construction of new countryside. From the total amount of biomass resources in China, the output of various straws in rural areas and towns is large and wide. Biomass solid convertible carbonized fuel is the fourth largest energy source after coal, oil and natural gas. It is a real renewable resource that can replace mineral energy and a key development direction in the future.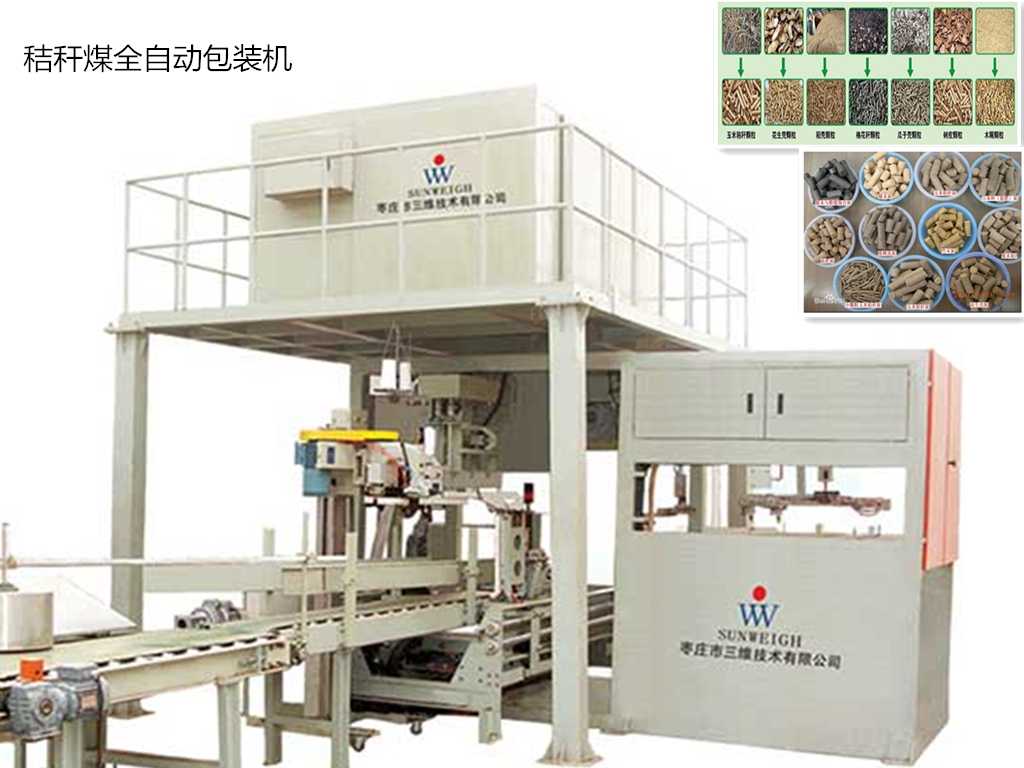 Zaozhuang Sunweigh Technology Co., Ltd. has more than 20 years of experience in weighing technology since its establishment in 1996. The company has rich experience in mechanical manufacturing, precision processing, assembly and debugging of professional and technical personnel. Adhering to the concept of "customer first, quality first", the company independently developed a full-automatic packaging machine SW-ABF-800 suitable for many industries, which meets different feeding requirements. In this way, different materials can meet the packaging speed of 20-50 kg (paper bags, textile bags, film bags) to 200-1200 bags/hour. The company is also equipped with automatic high-position palletizer and manipulator palletizer to solve the problem of manual traditional palletizing and transportation. Fully automatic palletizer can palletize up to 8 layers with beautiful, tidy and firm palletizer. Manipulator palletizer can simultaneously meet the requirements of three production lines for palletizing incoming materials. Enterprises only need to transport the stacked bags by forklift truck, which fundamentally reduces the production costs of enterprises.
【Related Product】
全自动包装秤
【Relevant Articles】
全自动包装秤