Silicon Carbide Powder Automatic Packaging Machine
Silicon carbide is also known as silicon carbide or diamond. It is made of quartz sand, petroleum coke (or coal coke), sawdust (adding salt when producing green silicon carbide) and other raw materials by high temperature smelting in resistance furnace. Among the non-oxide high-tech refractory materials such as C, N and B, silicon carbide is the most widely used and economical one, which can be called gold-steel sand or refractory sand. At present, industrial silicon carbide in China is divided into black silicon carbide and green silicon carbide, which are hexagonal crystals with a specific gravity of 3.20-3.25 and a microhardness of 2840-3320 kg/mm2.
Silicon carbide varieties:
Silicon carbide has two basic varieties, black silicon carbide and green silicon carbide, which belong to alpha-SiC. (1) Black silicon carbide contains about 95% SiC, and its toughness is higher than green silicon carbide. It is mostly used to process materials with low tensile strength, such as glass, ceramics, stone, refractories, cast iron and non-ferrous metals. (2) Green silicon carbide contains more than 97% SiC and has good self-sharpening. It is mostly used for processing cemented carbide, titanium alloy and optical glass, honing cylinder liner and precision grinding high-speed steel tools. In addition, there is cubic silicon carbide, which is a yellow-green crystal made by a special process. Abrasives made by this process are suitable for ultra-finishing of bearings. The surface roughness can be processed from Ra32-0.16 micron to Ra0.04-0.02 micron at one time.
Silicon carbide material quality:
Silicon carbide has many other uses besides abrasive because of its stable chemical performance, high thermal conductivity, low thermal expansion coefficient and good wear resistance. For example, coating silicon carbide powder on the inner wall of turbine impeller or cylinder block by special technology can improve its wear resistance and prolong its service life by 1-2 times; high-grade refractory material used for making, thermal shock resistance, small volume and weight Light and high strength, good energy saving effect. Low grade silicon carbide (containing about 85% SiC) is an excellent deoxidizer. It can accelerate steelmaking speed, control chemical composition and improve the quality of steel. In addition, silicon carbide is also widely used in the manufacture of silicon-carbon rods for electrothermal components. Its hardness is between corundum and diamond, mechanical strength is higher than corundum, brittle and sharp. Green silicon carbide is made of petroleum coke and high quality silica as main raw materials, salt as additive, and smelted in resistance furnace at high temperature.
The main uses of silicon carbide are as follows:
1. Abrasive
2. It can be used as refractory and corrosion resistant materials.
3. Can be used in chemical industry
4. Can be used for electrical purposes
5. Other far-infrared radiation coatings or far-infrared radiation dryers for silicon carbide boards.
The main applications of silicon carbide are:
1. Application of Nonferrous Metal Smelting Industry
2. Application in Iron and Steel Industry
3. Application of Metallurgical Beneficiation Industry
4. Application of Building Material Ceramics and Grinding Wheel Industry
5. Application of Energy-saving
Silicon carbide powder automatic packaging machine function: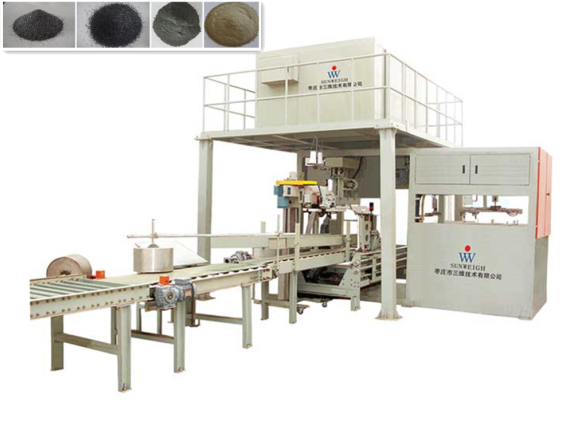 1. It can realize automatic bagging, opening, weighing, metering, moving import and sewing output.
2. The automatic sewing machine can sew the package automatically to realize the full automation of the packaging process.
3. The equipment is controlled by PLG and designed by touch screen.
4. Easy to operate and easy to use by customers.
Technical parameters of SiC powder automatic packaging machine:
1. Fully automatic packaging machine packaging range: 20-50 kg bagged products;
2. Packaging materials: paper bags, woven bags (film), double-layer composite bags;
3. Packing speed: 200-1200 packages per hour (Packing speed varies according to material)
4. Material: According to different materials, different feeding methods can be selected. It can be packaged with particulate matter, powder material, flake or mixture material.
5. Compressed air: 0.4-0.8 MPa, maximum gas consumption 1.6m³/min;
6. Power supply: 6.2Kw AC380V (+10% 50Hz);
7. Packaging accuracy: 0.2%
More Silicon Carbide Full Automatic Packaging Machine Consultation Call Zaozhuang Sunweigh Technology Co., Ltd:86- 0632-3359032
【Related Product】
全自动包装秤
【Relevant Articles】
全自动包装秤