Ultrafine Powder Quantitative Packaging Machine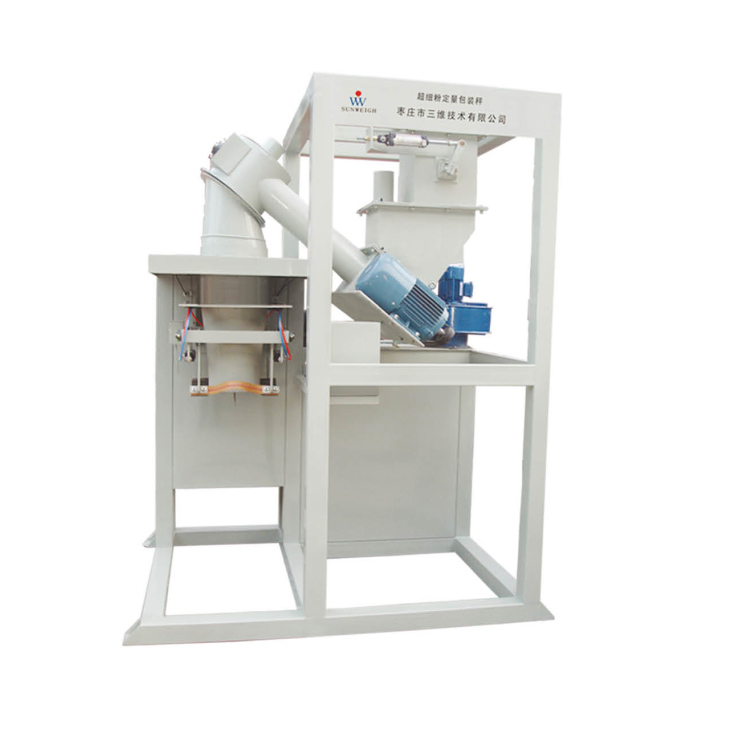 Product Introduction of DCS-25F-DF Spiral Feeding Packaging Machine for Ultrafine Powder Quantitative Packaging Machine


With the continuous development of economy and material updating, higher requirements have been put forward for packaging equipment, especially for all kinds of powder materials. Because of the difficulties of powder and powder materials cutting, sticking, caking and so on. DCS-25F-DF is a new generation of special equipment for ultra-fine powder packaging developed by our company. It overcomes the problems of inaccurate weighing, slow packing speed, sticky material and punching material caused by the great change of dry and humidity of materials. It is suitable for the packaging of 100-300 mesh powder materials. Mainly equipped with weighing mechanism, feeding mechanism, body frame, control system, conveyor and sewing machine, need manual assistance bagging.
Working Principle of DCS-25F-DF Spiral Feeding Packaging Machine for Ultrafine Powder Packaging Machine


Before weighing the superfine powder quantitative packaging machine, the target weight should be set on the instrument. The bag should be put into the lower outlet manually, the clamp switch should be switched, the control system receives the signal of the bag and drives the cylinder. The clamp device will clamp the bag. At the same time, the feeding mechanism should be started to feed the material into the packaging machine. When the target weight is reached, the feeding mechanism will stop. Feeding, the belt opener automatically, the packaging bag falls on the conveyor automatically, the conveyor conveys the packaging bag backward to carry on the artificial auxiliary seam opening, backward output, completes a bagging process.
Functional Characteristics of DCS-25F-DF Spiral Feeding Packaging Machine for Ultrafine Powder Quantitative Packaging Machine


Ultra-fine powder quantitative packaging machine can be used to pack various types of ultra-fine powder.
Ultrafine powder quantitative packaging machine overcomes the inaccurate weighing caused by the problem of sticky material and bulkhead caused by the large moisture content of materials.
The whole mechanical structure of the ultra-fine powder quantitative packaging machine has been patented by the state, which overcomes the problems of material punching.
Ultrafine powder quantitative packaging machine has fast weighing speed, digital display, intuitive and easy to read, stable and reliable, and convenient maintenance.
The control cabinet of ultrafine powder quantitative packaging machine adopts sealed form, which is suitable for harsh dust environment.
Ultra-fine powder quantitative packaging machine selection: random selection of folding machine, dust removal unit, automatic sewing machine.
Technical parameters of DCS-25F-DF screw feeding packaging machine for superfine powder quantitative packaging machine


Model Specification of Ultrafine Powder Quantitative packaging machine: DCS-50F-DF
Weighing Range of Ultrafine Powder Quantitative packaging machine: 10-50kg
Rating Value of Ultrafine Powder Quantitative packaging machine: 10g
Weighing Accuracy of Ultrafine Powder Quantitative packaging machine: 0.2% F, S
Weighing Speed of Ultrafine Powder Quantitative packaging machine: 150-240bag/h
Working Environment of Ultrafine Powder Quantitative packaging machine: Relative Humidity ≤ 90%
Power Supply for Ultrafine Powder Quantitative packaging machine: AC380V50Hz
Ultrafine Powder Quantitative packaging machine Air Pressure: 0.4-0.8Mpa
Power of Ultrafine Powder Quantitative packaging machine: 4.2kW
Air Consumption of Ultrafine Powder Quantitative packaging machine: 1m³/h
You may be interested in: automatic packaging machine automatic bagging machine powder quantitative packaging machine ultra-fine powder quantitative packaging machine
Recommended Solution: Semi-automatic packaging machine to Full-automatic packaging machine Full-automatic Flanging Sealer Powder Material Quantitative Packaging Machine Solution
【Related Product】
关键字
【Relevant Articles】
关键字