Packaging Machine without Sewing Function-----Valve Port Packing Machine
DCS-LF-25/50 valve port packaging machine and DCS-QLF-25/50 valve port packaging machine are the main products of Zaozhuang Sunweigh production. Valve-port quantitative packaging machine is a packaging machine which integrates automatic measurement, filling and packaging without sewing machine. It adopts valve-port packaging technology to reduce dust spillover. High-speed processing control instrument and digital frequency conversion technology ensure extremely high measurement accuracy.
Working principle:
Material from the finished warehouse into the packer group punching warehouse, the homogenization of materials by the homogenization mixing system. The utility model can effectively discharge the gas contained in the material from the buffer bin, and at the same time has the function of preventing the material from caking and bridging, thus ensuring the smooth packaging process. When the filling weight reaches the preset quantitative value, the packing machine stops feeding, and the pneumatic device returns the packing bag to the conveyor to complete a single bag packing.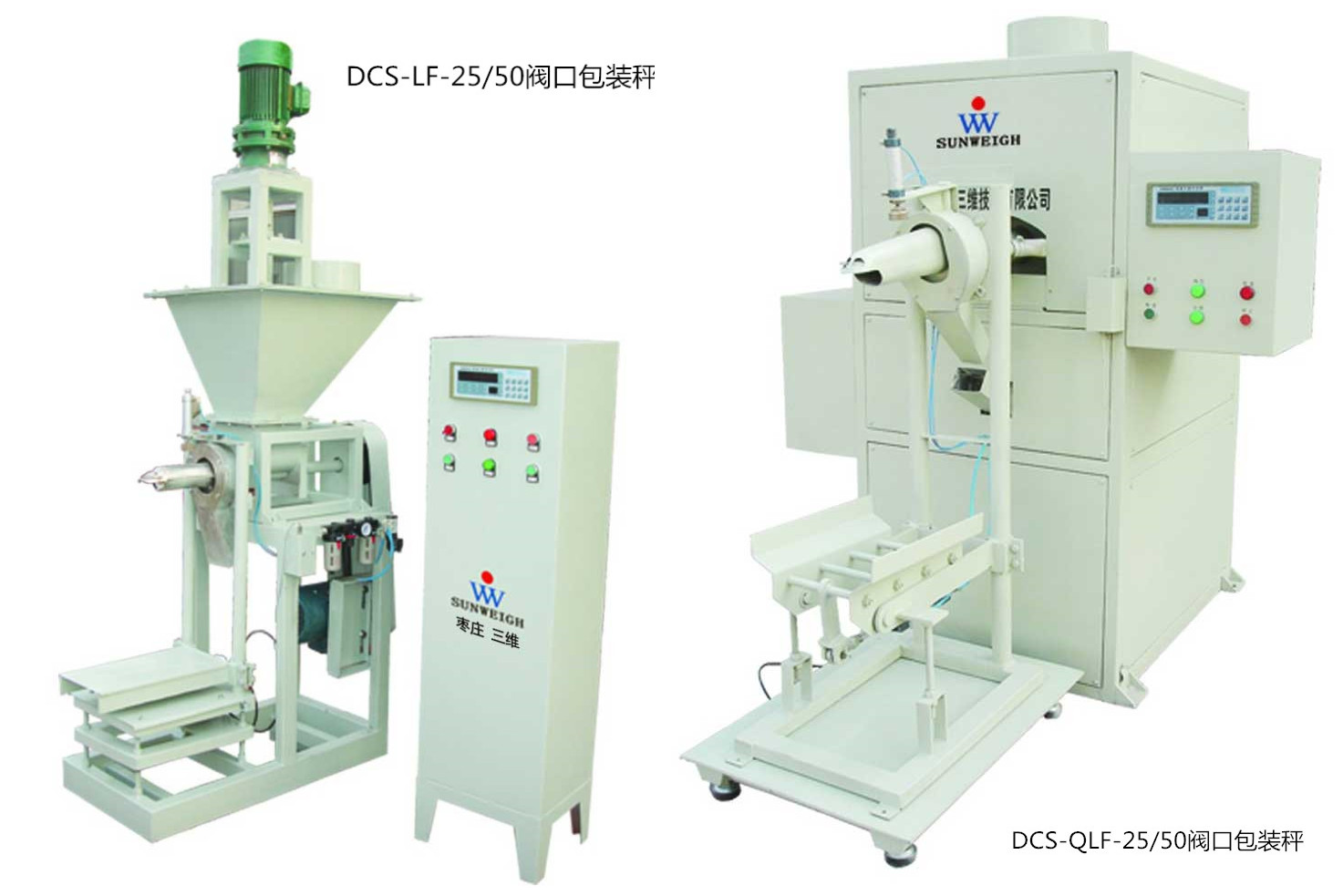 Functional characteristics:
DCS-LF-25/50 Valve Port Packing machine is suitable for packing various powder materials and mixtures, powder materials with larger bulk density and smaller particle size and small particle size. The representative materials are resin powder, pigment powder, carbon black, alumina, titanium dioxide and so on, while DCS-QLF-25/50 valve port packaging machine is suitable for powder mixed materials and small particle materials, representing materials such as barite, quartz sand, coke gem, activated carbon, refractory materials and dry powder mortar. It is suitable for all kinds of fine powder or superfine powder materials with low bulk density and strong air affinity. The machine adopts screw feeding and can work continuously. It is a representative equipment of Mechatronics new equipment. Adopting advanced technology such as high resolution weighing controller, high precision sensor and imported pneumatic actuator, it runs stably and reliably, has reasonable structure, occupies small space, installs flexibly, maintains simply, adopts filling method of two-stage flow control, has the advantages of fast weighing and high accuracy, and is equipped with advanced dust collecting device. For the packing of fine powder or ultra-fine powder, the use ring is used. The environment is clean and dust-free. It is precisely because it is so special and novel that it is a beautiful scenic line of industrialization.
【Related Product】
全自动包装秤
【Relevant Articles】
全自动包装秤